Serving Peterborough and the Greater Toronto Region
We offer quick turn around time and DELIVER direct to your business via courier.
New Custom Shapes Available!
Round /Oval/Leaf Shaped Business Cards
Choose from the following design options:
*Rounded corner
*Oval
*Leaf shaped
The smooth, round edges will elevate them as premium business cards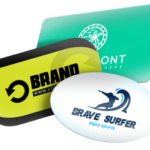 Our Products And Services
Now Available! Social Distancing Floor Decals & Custom T-Shirts
New products available for Spring 2020
Quick Facts About Ideas On Display
Established 1996 in Port Hope ON.
Owned and operated by Jim Albert 
A wealth of experience in  web and print design
Extensive marketing and business expertise
A Great Product At a Great Price
We are your local business partner.
Work directly with the owner on every job. Put our 23 years of experience to work for you. 
We have extensive programming  skills 
We offer competitive pricing
We work flexible hours to accommodate your schedule
We offer personal and courier delivery options
We offer rush service (2 day turnaround) on most print items
Spring 2020 Special Offer...
Please fill out our contact form with your request. We will respond usually within the same day